Most Preferred Auto Repair & Service in Scottsdale
Scottsdale's Doctor's Office

At Tech Plus Automotive we are renowned for having the cleanest facility that most customers have ever seen. No matter how busy the shop gets we believe in maintaining a clean and organized workspace and that same attention to cleanliness is always extended to the quality of work we provide your vehicle.
For each job we use seat covers, floor mats and fender covers to protect your interiors and paint whenever we are working on your vehicle. We understand that a European car can be one of the biggest investments you make and we take every measure we can to protect it.
State of the Art Facility
Our shop has tens of thousands of dollars invested into the latest vehicle diagnostic tools, equipment and technology to ensure the most accurate services possible. Our facility features everything including:
Computers
Scanners
OEM diagnostic tools
Hunter Roadforce Balancer
When you visit our shop we're proud to offer every major service of a dealership at just a fraction of the cost such as:
Vehicle computer updates
Emissions checks
Error code diagnosis
Performance tuning and issues
Our Team is Here to Help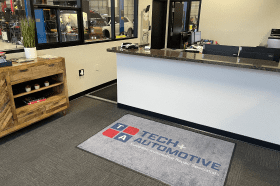 At Tech Plus Automotive our technicians take your vehicle's well being seriously and it shows in our commitment to quality. Our reputation is second to none throughout all of Scottsdale and the surrounding areas and we've become the area's #1 dealership alternative for European auto services.
Whether you're unsure what the issue is or you need to schedule routine services please call today. Our friendly staff is here to assist you with maintaining your car so you can spend less time worrying about what's wrong and more time behind the wheel!